Video Production BootCamp
An immersion experience for you and your students to learn every facet of live video broadcasting
VIDEO PRODUCTION BOOTCAMP
Attendees gain a basic competence in the core functions of a typical live broadcast,  including:
Directing
Connecting the Equipment
 Communication
Camera Control and Operation
Venue Design/Broadcast Setup
Cable Management
After breaking into work groups, the boot camp will take attendees through the key subject areas that comprise a successful broadcast and culminate in a group exercises that allow them to demonstrate what they've learned in a setting that allows for comments and growth.
COMMUNICATION
The key to any successful broadcast is solid communication. Communication in a steady stream allows the camera operators, video and audio engineers to fully understand the flow of the production and their role in it, allowing them to anticipate the needs of the director proactively.
This section will introduce attendees to the equipment and techniques used for effective communication amongst the broadcast team.
Topics covered:
Intercom system functionality and operation
Cueing and countdowns
Conduct and standards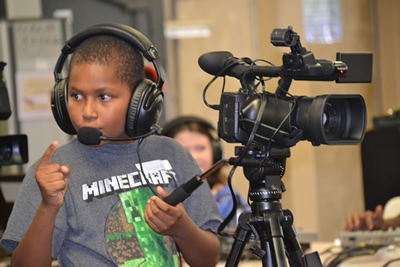 CAMERA CONTROL AND OPERATION
Small-venue productions typically involve smaller lightweight cameras and broadcasting across the Internet adds a unique nuance to the way shots are framed, switched, and panned. While more easily portable and obtainable, these cameras lack the stability of their larger siblings.
Attendees will be shown and have the opportunity to practice how to control these smaller camera and tripods to produce a high quality internet broadcast experience.
Topics covered:
Tripod and stance
Camera core settings
Camera control and tracking
VENUE DESIGN – BROADCAST SETUP
This section focuses on the physical environments and necessary considerations involved in four of the common live production formats.
Attendees will learn in this section how to plan for these venues and adapt their productions to match. An overview of scheduling and starting a live Internet Broadcast using http://eduvision.tv is also included. (Requires a wired network connection).  Topics covered:
 Cable internal structure
Cable wrapping the right way
Taping and routing
Removal and packing
Roles and responsibilities of the "grip"
THE GRANDSTADIUM VIDEO PRODUCTION BOOTCAMP EXPERIENCE
GrandStadium is a specialized Video Production BootCamp created to enable students to learn how to broadcast live sports events, both locally and at major university and professional venues.
Students get to experience a broadcast television studio and take the lead on broadcasting championship high school sports events live on the internet.
LIVE PRODUCTION
The live production phase of the training is intended as a vehicle to allow attendees to practice and demonstrate what they've learned in the boot camp.  Using the equipment setup earlier in the day, attendees will capture, mix, and broadcast video and audio of a staged event.
Teams will have to plan around the other student teams and figure out how to place their cameras in a way that shares the space with their classmates.  In doing so, they will demonstrate an understanding of the following concepts:
Camera placement
Venue design
Video and audio connectivity
Following the setup phase, one group at a time will perform a small video broadcast while the other teams observe.  The broadcast is set as a challenge.
Camera operators will go to their locations
Director will be handed a card with a definition of the events that are about to occur.
Director will have 2-5 minutes to discuss the production with their crew and sort out a rough camera flow
Director will be given a countdown to production time.
On the appointed time, the director will attempt to work with his camera crew to capture the event.
Attendees not participating in the production will observe a projected screen of the event as it would be web-streamed and recorded.
Following the mock production, the team will be rated on how well they met the objectives with commentary from their fellow classmates and instructors.  Once completed, the next team will take the production until each team has produced an event.
The purpose of this exercise is not to criticize, but instead to give a near real-world exposure to the pressures of actually running a production in front of an audience.  This will hopefully better prepare each group for the realities of the live events they will be working on.  It is anticipated that each subsequent group will be stronger than the one before, and that attendees will learn as much from watching as they do from actually participating in the demonstration.